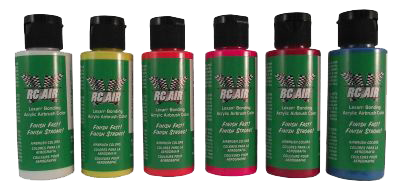 Badger's new "RC AIR Lexan Bonding Acrylic Airbrush Colors" will transform Lexan RC car bodies into wild and exciting creations!  Standard opaque's, brilliant iridescent colors, shimmering metallic colors and hot neon's; RC AIR Airbrush Colors, combined with creativity, will shift RC car bodies from mediocre to magnificent! 
RC AIR is a safe, airbrush-ready, water-based acrylic.  It contains a newly developed hardener designed to enhance the drying time for superior Lexan adhesion.  RC AIR also contains a flex resin for increased flexibility and bonding durability during crashes and rollovers.  
Over 40 RC AIR Airbrush Colors are ideal for painting on a variety of surfaces including Lexan, resins, plastics, and many other porous and non-porous materials.  RC AIR is non-toxic, low odor; it contains no harmful solvents or chemicals and meets and exceeds the ASTMD-4236 standard of excellence.  Available in 2oz., 4oz., 16 oz., & 32 oz. bottles.
COLOR CHART/BROCHURE PDF