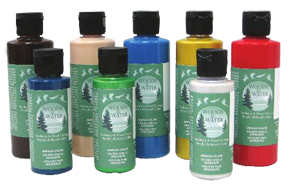 Badger's "Woods & Water" airbrush colors are as close to nature as you can get!
From brilliant iridescent and pearls to subtle shades of green and brown, Woods & Water are the ideal colors for enhancing birds of the sky, creatures of the sea, mammals of the forest, reptiles of the desert, and scenic dioramas!
Woods & Water airbrush colors will adhere to a variety of natural surfaces,
including leather, scales, wood, and other various substrates. Woods & Water
colors are highly pigmented, airbrush-ready paints that are specially formulated
for the unique needs of novice as well as champion carvers and taxidermists.
Available in seventy-two assorted shades (bland to bold) Woods & Water paints
are water-based, non-toxic, and low odor; no harmful solvents or chemicals in
these fine quality airbrush colors!
All Woods & Water airbrush colors meet and exceed the ASTMD-4236 standard
of excellence!
COLOR CHART/BROCHURE PDF