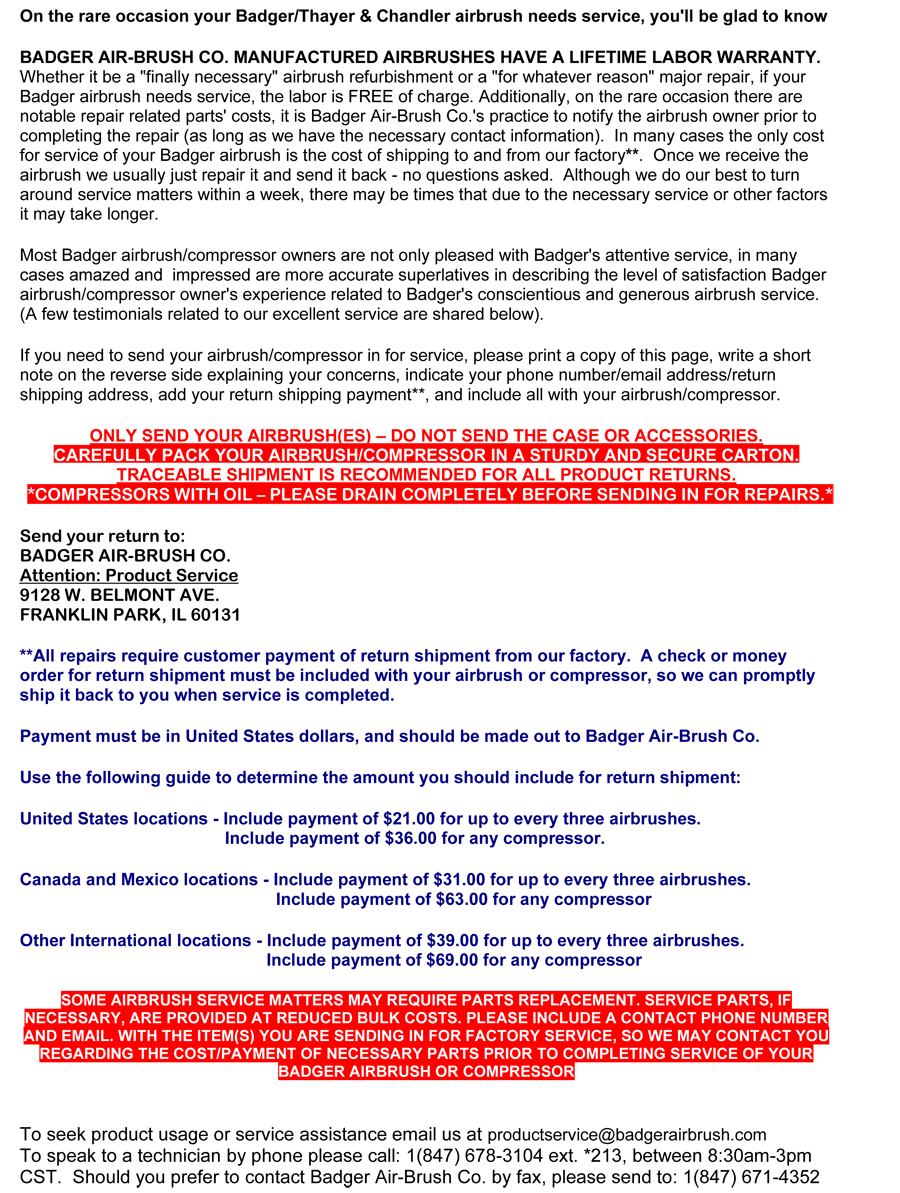 CUSTOMER SERVICE TESTIMONIALS
I own 3 Badger airbrushes that I use on my plastic scale models. I returned my 360 because I jammed the teflon seal in the body and could not remove it. Within a week I received it repaired. I am very impressed with your company and staff. I will certainly be a repeat customer and a vocal supporter of Badger Airbrushes. Bravo! It is service like this that makes "Made in the USA" mean something.

Dave Lennox                                    

I have received my repaired airbrush back.  I just wanted to thank you for your kind and generous way.  I expected to pay for repair and shipping, but you did. That is so awesome.
Your generosity will come back to you tenfold...Pay it forward! I do believe in those principles, and you are truly putting them into practice.
I am truly grateful.
Sincerely,
Sue Hovey                                        
I'm writing this to thank you, and everyone involved in the resolution of these problems. I only wish more companies followed your lead in customer service and problem resolution.  Please pass this on to those involved.  My thanks to all for your care, concern, and quick resolution to my issues!
You have certainly guaranteed my recommendation to others, as well as my repeat business for your company.
 
Regards,
Howard Greenfield                                
I just wanted to write and thank you for the assistance you provided me with my Sotar airbrush.  I really appreciated your time and willingness to solve the problem I was having.  I'll be sure to let all my modeling friends know how responsive you were.  Thanks again for your help and excellent customer service.
Sincerely,
Rafe Morrissey
Executive Producer
Master Class Model Building Videos    
My first two 35 year old air brushes were delivered today ( Friday afternoon ) after total rebuilds. Thankyou so much. They are better than new. Most all the parts were replaced with up dated new parts and both air brushes were shinny new looking again. All this at no charge to me !!!!
You can bet that I'll stay with Badger Air Brushes forever. And will pass this along to all my model building friends. I'm part of an air museum in Northern California ( Pacific Coast Air Museum ) I paint real jet fighters and Flight helmets for our airshows and displays with these air brushes, I'd be lost without them. Please pass along my gratitude to all involved . Again thankyou for a great job well done and for your wonderful customer service.
Sincerely yours, Tony Sarganis